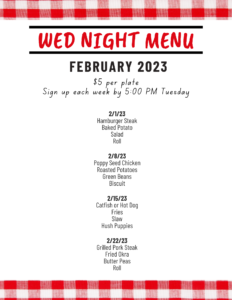 You must sign up each week by 5:00 PM on Tuesday.
Drop a meal ticket in the offering plate

call/ text Russell Reed at 706-206-9358

send an email to: kitchencrew@mountolivetbaptist.com
The meals are provided as a ministry of the church to make it more convenient for families to get to church on Wednesdays. It is also a great time to fellowship. With that being said, we strongly encourage anyone getting a plate to stay and be a part of our Wednesday night activities. We have bible studies for kids, youth, and adults starting at 6:30 PM.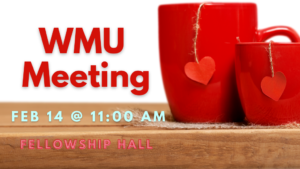 WMU – Wommen's Missionary Union
Our WMU meets on the 2nd Tuesday of each month at 11:00 AM in the Fellowship Hall. All ladies are invited to join us!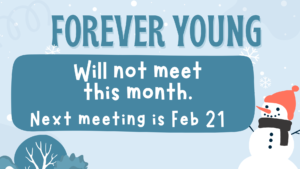 Forever Young meets on the 3rd Tuesday of each month, at 12:00 PM, in the Fellowship Hall. Please bring a finger food to share.
See Beth Addison for more details.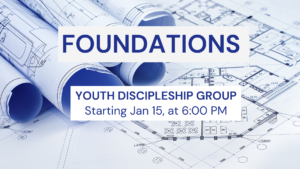 Youth Discipleship Groups
Starting Sunday, Jan 15, at 6:00 PM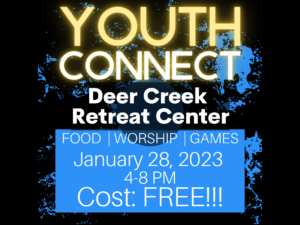 Youth Connect Day
Deer Creek Retreat Center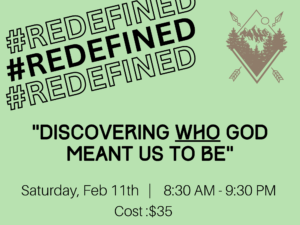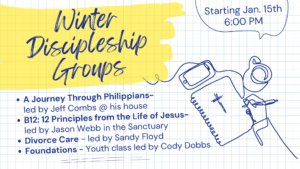 Sunday Night Discipleship Groups –
To Live Is Christ by Matt Chandler –
led by Jeff Combs @ his house (611 W. Howell Street, Hartwell)
B12: 12 Principles from the Life of Jesus-

led by Jason Webb in the Sanctuary

Divorce Care

– child care available

Foundations

– Youth class led by Cody Dobbs

Family Game Night at the Caudle's home
There will not be a game night in December.
The next game night will be on
Jan 13 at 7:00 PM
Frank & Debbie Caudle are hosting a game night at their house on the 2nd Friday of each month. Their address is 853 Paynes Creek Road, Hartwell. Please call Debbie at 443-223-1979 with any questions. Everyone is welcome! Kids too!