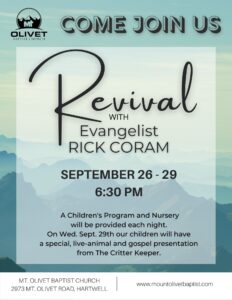 REVIVAL | Sept. 26th-29th at 6:30 PM
Please make plans to join us for our revival with evangelist Rick Coram. The revival will take place September 26th-29th staring at 6:30 p.m. each evening. A nursery will be provided.
The children will have their own revival with the following separate activities :
Sunday Night— a Balloon Artist & Illusionist
Monday & Tuesday Night—crafts, games, and bible study
Wednesday Night—The Critter Keeper will do a special, live-animal and gospel presentation for the kids.

We hope you will make plans to join us each night.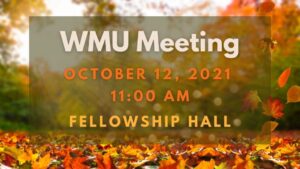 WMU stands for Women's Missionary Union. All women are invited to attend our monthly WMU meeting. We meet in the Fellowship Hall at 11:00 a.m. on the 2nd Tuesday of each month.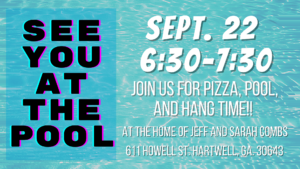 Our Youth will have a pool party on Sept. 22nd from 6:30-7:30 pm. at the house of Jeff and Sara Combs. Pizza will be served. See Cody for more details!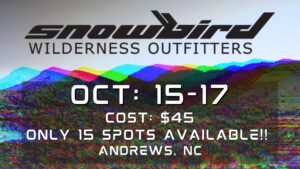 Save the date for our Fall Retreat!
Our Youth will be going to Snowbird Wilderness Outfitters for our Fall retreat on Friday, October 15th through Sunday, October 17th. The cost for the retreat is $45. There are only 2 spots remaining. The deadline to sign up is Sept. 8, 2021. See Cody to reserve your spot!