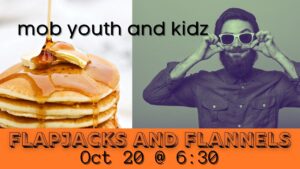 FLAPJACKS & FLANNELS FOR YOUTH AND KIDZ!
6:30 PM in the Fellowship Hall

October is Pastor Appreciation Month. On October 24 we will have a lunch following the 10 AM Worship Service in honor of our pastors and their families. The church will provide the meat and the drinks. Please bring a side dish and/or a dessert to share. If you are planning to attend please sign up at the table in the gym or send an email to kitchencrew@mountolivetbaptist.com.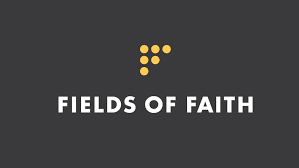 FIELDS OF FAITH – OCTOBER 27, 2021
Meet at MTOBC at 5:30 pm &

Return to church at 8:30 pm

This event is at the HCMS football field from 6-8pm.

Food will be available for purchase at the event

Chick-fil-a boxes – starting at $7

Kona Ice – starting at $3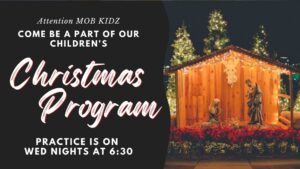 Children's Christmas Program:
We would love to have all kids be a part of our Children's Christmas Program that will take place on December 19, during the 10:00 AM worship service. Practices will be held on Wed. evenings at 6:30. Please sign up if you are interested in participating.
The church basketball league is back this year! If you are interested in playing basketball for Mt. Olivet Baptist please sign up. There are sign up sheets located in the gym and in the basement foyer.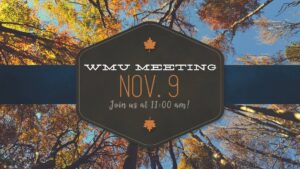 WMU stands for Women's Missionary Union. All women are invited to attend our monthly WMU meeting. We meet in the Fellowship Hall at 11:00 a.m. on the 2nd Tuesday of each month.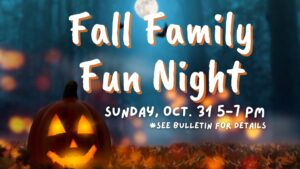 Join us for an evening of food, fun, and fellowship. We will have a jumbo slide for the kids, a hayride, loaded s'mores, hotdogs, candy, crafts, games, and more. This event is open to everyone and we would love for you to invite your friends to join you. Please sign up to let us know how many are coming so we can plan for food.

How can you help?
We need volunteers to help wrap and serve hotdogs, monitor the jumbo slide, assist with pumpkin decorating, and help with s'mores. A sign up sheet is on the table.

If you have seasoned firewood you would like to donate for the fire pits, please drop it off in the carport at the youth house.

If you have a portable fire pit we can borrow for the evening please let Cody know.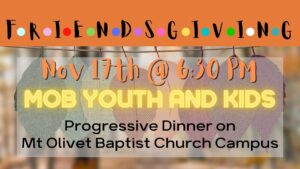 Friendsgiving—November 17th at 6:30 PM
We will have a Progressive Dinner for the kids and youth.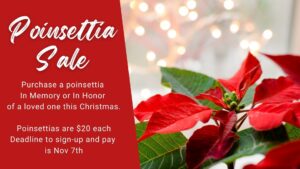 You may purchase an 8 inch poinsettia in honor or in memory of a loved one this Christmas. Poinsettias will be displayed in the worship center from Dec 5-26. After the morning service on Dec. 26 you may take your poinsettia home with you.
To purchase one, please fill out a Christmas Poinsettia Sale envelope, located on the tables, and drop it in the collection box or offering plate. The cost is $20 each and the deadline to purchase is November 7th. If you have any questions please call Brenda Vickery at 706-717-8642.